Pastry-making is a complex and delicate culinary art that constitutes one of the most important aspects of gastronomy. Sometimes, the pastry section is a very different in style from the rest of the restaurant's cuisine as the difficulty involved in its preparation makes it an attractive discipline in itself. Some restaurants on the island, such as Chiringuito Blue, Minami, and The Beach by Ushuaïa, offer lovers of all things sweet… and not so sweet, a varied dessert menu that brings a happy conclusion to the perfect dinner.
The Chiringuito Blue, located on the promenade in Santa Eulària, has a vast range of sweet dishes, as the executive pastry chef at the MAF Ibiza Group, Sheila Castells, explains to us. «The most popular dessert by far at Chiringuito Blue is the Mini Magnum, which is just like a Magnum, but in miniature version. It's a milk chocolate ice cream with crumble, bathed in dark chocolate and toasted peanuts,» she says.
Chocolate is also the star of the sweet section at restaurant Minami, says Cleiton Tiago de Souza, master pastry chef of the Ushuaïa Ibiza group of restaurants. «At Minami the most requested dessert is the Bizcocho de matcha con crema ligera de cacao con limón cítrico (matcha cake with light cocoa cream and lemon citrus)». However, as the master pastry chef explains, one of the most original desserts has to be the Cacao Pod on the menu at The Beach. «It's an Amazonian dessert with a crumble made of 100% pure cocoa, cocoa nibs and savoury caramel», he adds.
The most original
By far the most original sweet treat created by Castells on the promenade at Santa Eulària is the Lingote de capuccino. «Made with mascarpone mousse, coffee cream, sponge cake steeped in coffee and topped with hazelnuts, the result is a delicious cappuccino flavoured bite», declares Castells.
The pastry chef of the MAF Ibiza Group tells us, «we change our dessert menu every year». The same thing happens in the restaurants where Tiago de Souza works his magic, with the desserts being updated annually «regardless of whether more or less are requested,» he says.
In terms of inspiration, Castells focusses on what the customers ask for each year. «People generally go for the most basic choices, but I love to give these classics a little twist. For example, at Riomar there's no Cheesecake as such. What you will find on the menu is a cheese mousse bathed in chocolate and raspberries. I love to take a classic pudding and put my own twist on it.
Both Sheila Castells and Cleiton Tiago de Souza have considered diners with gluten intolerances when designing their dessert menus. «Chiringuito Blue offers gluten-free options. The Mini Magnum is one of them and another is the Tropical dessert.
«It's made with a coconut panna cotta with mango compote, topped with a gluten-free crumble and it's also vegan.» People suffering from this type of intolerance can also enjoy vegan banana cake, vegan macaroons for events, and walnut and chocolate bonbons at Ushuaïa's restaurants,» explains Tiago de Souza.
The desserts in these restaurants are prepared with the very best ingredients, many of them from Ibiza. «We create our own flaó (typical Ibizan tart) in the hotel, what's more, I love our desserts to be made with local products like almonds and lemons from Ibiza. And in the restaurant La Llama, there is a dessert made from local goat's milk,» explains Castells.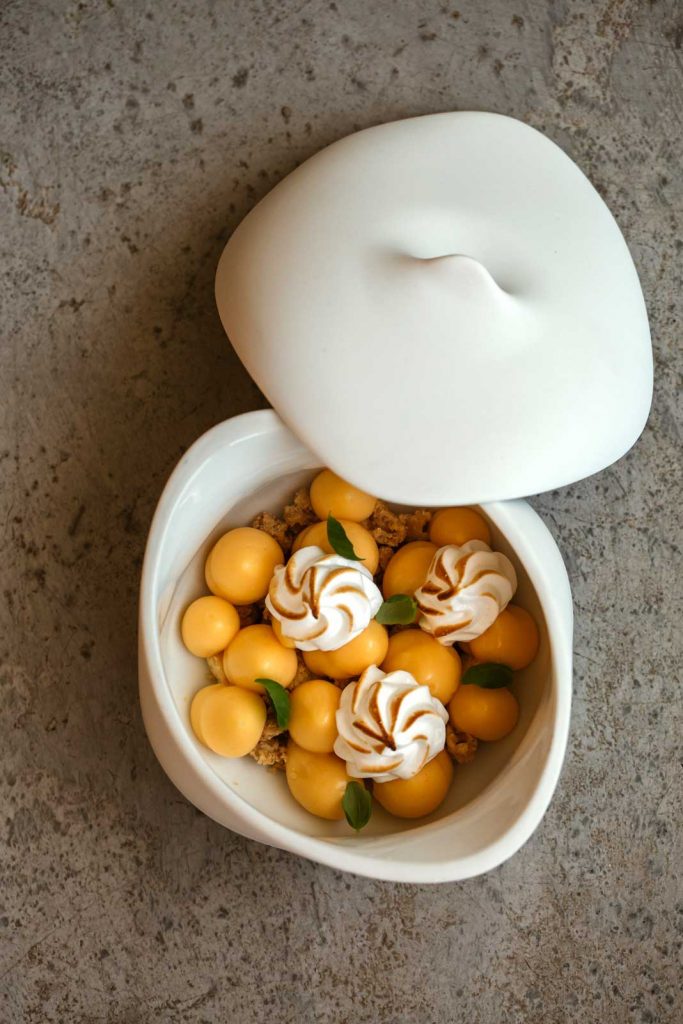 A citrus note
Diners with less of a sweet tooth can choose from the citrus options at these restaurants. «I like there to be both chocolate and acidic options on all the menus. At La Llama we serve a version of Lemon Pie made with yuzu and lime and a crumble, lemon sponge, meringue and basil». Minami also offer sweet courses with a touch of citrus, such as the Matcha Cake, which contains citrus in the filling and topping, the pastry chef explains.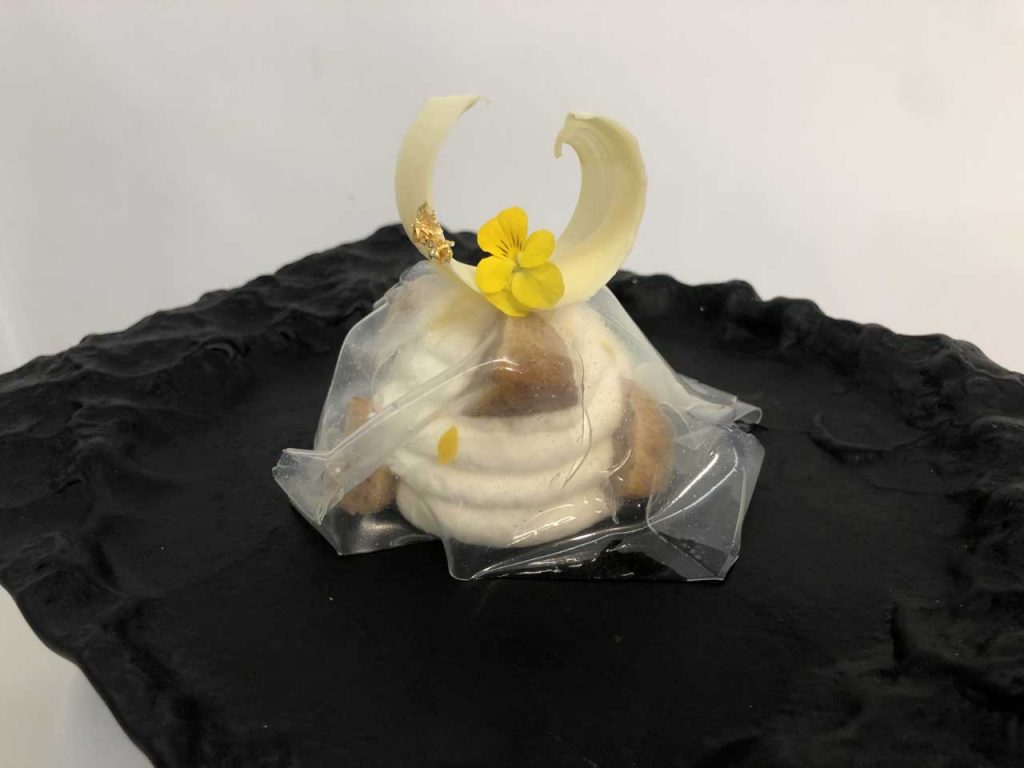 Achieving the perfect balance with desserts is «complicated, but not impossible, » says Castells. «I love to bring out the best in flavours and for desserts to be just right – not too sweet, not too acidic. This year we want to see the reaction to our Knafeh (a traditional Israeli dessert) on the menu at La Llama. It's been prepared using Ibizan cheese cooked with butter. It's served hot with pistachio ice cream,» the pastry chef concludes.